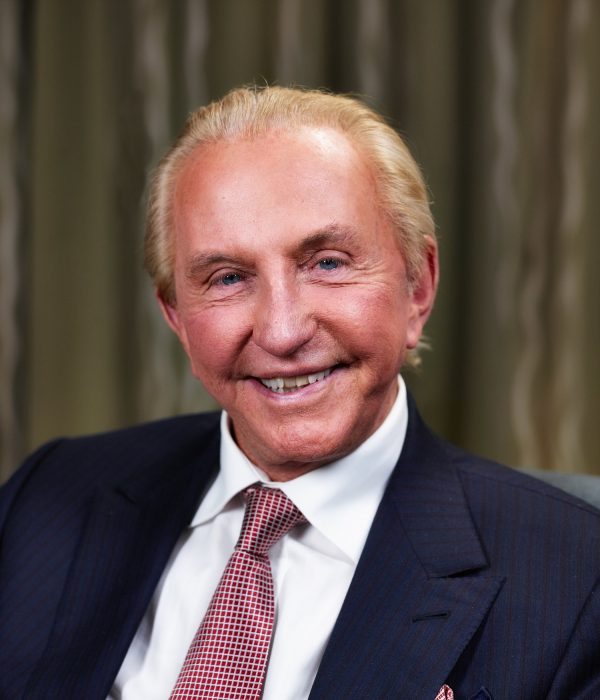 Geoffrey JW Kent
Founder and Co-Chairman
Abercrombie & Kent
As the Founder, Chairman and Chief Executive Officer of the Abercrombie & Kent Group of Companies, Geoffrey Kent brings a truly extraordinary lifetime of experience, innovation and genuine passion to the world's most exclusive luxury adventure travel corporation. A pioneer of the modern luxury safari, Kent has taken his company—and his clients—from heretofore undiscovered areas of the African continent to the furthermost reaches of the globe. Under his visionary direction, Abercrombie & Kent (A&K) offers 350 tours and expeditions in more than 100 countries across seven continents. As the company has been fashioned, the common denominator among all of A&K's unforgettable journeys is an unwavering commitment to service—to the unquestioned best in expert guides, luxurious accommodations, safety standards, commodious and unique transportation and an assiduously-crafted schedule of amenities and activities that brook no equal.
Geoffrey Kent's life began, really, much as he lives it today—amidst excitement and adventure in an exotic location. He was born in 1942 while his parents, Colonel John and Valerie Kent, were on safari in Northern Rhodesia (now Zambia). Growing up on the family farm in the Aberdare Highlands of Kenya, his eventful childhood was spent in the splendor and drama of untamed Africa. He attended the then-new Duke of York School in Nairobi, which would ultimately produce many of Kenya's business and science leaders.
At the tender age of 16, the fearless Kent undertook an initial solitary exploration of the African continent that would in many ways define the course of his life. On this momentous two-month trek, he became the first individual to travel by motorbike the 5,000 often treacherous miles between Kenya and Cape Town, South Africa.
After attending the Royal Military Academy at Sandhurst, Kent saw service in such far-flung countries as Bahrain, Aden, Oman, Yemen, Cyprus, Libya and Malta. After his last posting as Aide-de-Camp to General John Frost, CB, DSO*, MC (of 'A Bridge Too Far' fame), his distinguished armed forces career was cut relatively short as a result of hearing damage from years spent in heavy tanks.
During his time in the British Army Kent, together with his parents, founded Abercrombie & Kent in Kenya. Now he could return to Kenya and A&K on a full time basis. By 1967, the elder Kent retired and the younger son moved full bore into turning A&K into the internationally-renowned luxury travel powerhouse that it is today.
With the innate skill of a consummate businessman and the relentless curiosity of a born explorer, Kent created a company that enables travelers to literally discover the world around them—and to do it in a uniquely stylish manner. Africa, Antarctica, the Arctic, Australia and the South Pacific. The Orient (China, Cambodia, Vietnam, Laos), India, Sri Lanka, Europe, Egypt and the Middle East. South America, Central America and the United States. With A&K, Geoffrey Kent makes the most faraway points on the world map seem somehow more accessible and more fascinating, yet safe and secure, charting previously uncharted territories.
Kent, and A&K, offers clients unrivaled service; from an initial travel consultation to transportation to accommodations to the ride home, A&K goes the distance. Further, the company owns the majority of the products it uses to create these unforgettable experiences. With a fleet of luxury products around the world, such as the three Sanctuary Sun Boats cruising the Nile, the Sanctuary Yangzi Explorer in China's Three Gorges, and A&K's Antarctic and Arctic adventures, together with the A&K Hotel Group (Sanctuary Retreats), which includes the award-winning Sanctuary Chief's Camp, A&K literally transports guests to the most beautiful places on earth. A thoroughly modern, "new millennium" approach to travel ensures state-of-the-art techniques and tours based on the clients' wandering whims and destination desires.
The Kent formula of providing a "luxury cocoon" from which to explore the world has attracted more than 250,000 clients per year. Robert De Niro, Kim Basinger, Henry Kissinger, David Rockefeller, Ted Turner, Dreamworks Jeffrey Katzenberg, Diane Sawyer, Katie Couric, Pop singer 'Sting', actors Hugh Jackman and Ben Stiller, Elle Macpherson, Jerry Seinfeld, Cameron Diaz, Chris Rock, Bill Gates, former President Jimmy Carter, and First Ladies Hillary and Laura Bush are among the literally thousands of well-known people who have journeyed to the wildest and most remote corners of the globe with A&K.
A keen and abiding passion for wildlife preservation has marked both the career and personal life of Geoffrey Kent. In 1982 he founded the Friends of Conservation, of which HRH The Prince of Wales is the Patron. It is a highly regarded, award-winning international organisation which seeks to preserve the endangered natural environment. FOC does not merely impose solutions on local populations, but marshals local support to find rational, workable answers to ecological problems. In 2013 Kent was invited by HSH Prince Albert II of Monaco to join his Roundtable on Philanthropy. He is also a keen supporter of the Oceanographic Museum and Institute in Monaco.
Geoffrey Kent continues to travel the world in search of exotic destinations covering more than 12 million miles to 170 countries. In between these expeditions and forays, he became a world-known polo player; he was captain of the A&K team in the US for more than 20 years and won the US Open twice, the US Gold Cup, the Cartier International and the most esteemed cup in polo, the Open Championship, the World Cup. He served as captain and patron of the Windsor Park polo team, on which he played with HRH The Prince of Wales. He is a founder of Windsor, Vero Beach, one of Florida's most exclusive real estate developments, designed by the renowned New Urbanist town planners and architects André Duany and Elizabeth Plater-Zyberk.
Geoffrey Kent serves as the Honorary Consul of the Republic of Kenya in Monaco. He is a founding member of the World Travel & Tourism Council, the world's largest private sector organisation dedicated to travel and tourism, and is immediate past Chairman, having served in that position for 6 years. He was inducted into the UK's Travel Hall of Fame for creating 'Experiential Travel' and was honored by Travel Weekly with a Lifetime Achievement Award. He has appeared frequently on television. He is a member of UN Secretary-General Ban Ki-moon's Leadership Council for Sustainable Development Solutions Network headed up by Professor Jeffrey Sachs.
The Abercrombie & Kent Group has more than 50 offices worldwide, employing more than 2,000 travel professionals.