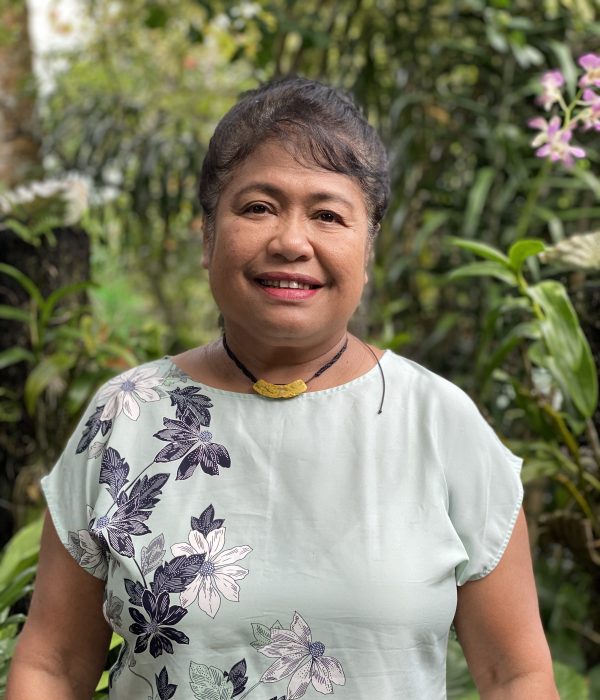 H.E. Debbie Mineichi Remengesau
First Lady
Palau
Debbie Mineichi Remengesau (born February 17, 1960) is the First Lady of the Republic of Palau from 2002 to 2008 and 2013 to the present. She is married to the 9th President of Palau, Tommy E. Remengesau, Jr. The couple married in 1982 and have four grown children and six grandchildren.
Raised in the state of Airai, Palau, the First Lady is a graduate of Mountain View Community College in California, where she earned her Associates Degree in accounting and furthered her education at San Jose State University. She subsequently worked for the Judiciary as a Court Clerk of Common Pleas.
With a deep-rooted love for the Republic of Palau, her People and culture, the First Lady maintains a strong spirit for community. Her unrelenting passion is reflected in the work she has done and continues to do at home in Palau and internationally.
The First Lady is a passionate advocate for the preservation of Palauan language and culture, and the protection and conservation of Palau's most precious natural resources. She also champions every child's basic human right to inherit a healthy planet.
In December 2017, the First Lady as Chairwoman of the Palau Legacy Project launched the Palau Pledge: a world-first environmental protection initiative. The Palau Pledge is a modern expression of Palau's ancient cultural wisdom on environmental stewardship brought to life in a way that is relatable and accessible to for visitors to Palau. Since its launch, the Palau Pledge has gained worldwide recognition for its innovative approach to preserving culture and environment.
First Lady Remengesau is also the backbone of a variety of community and international organizations. She is the founding member of Milad-Dil, a non-profit-organization promoting the empowerment of women. She is an honorary board member of the Palau Conservation Society where she takes every opportunity to support initiatives that safeguard Palau's fragile marine and terrestrial life.
She is also a member of other organizations including, the Palau Soroptimist International, Pacific Islands Association of Libraries and Archives, the Palau Behavioral Health Council, Junior Statesmen of America, the Leading Women for Ocean Network, the International Association of First Ladies for Peace, and Pacific Asia Travel Association (PATA).
In March 2018, she received the prestigious Prix de la Fondation Award by Crans Montana Forum, presented to her by Reverend Jesse Jackson for her remarkable leadership and unwavering ambition to safeguard Palau and its resources for future generation.
First Lady Remengesau is devoted to utilizing her memberships, expertise and experience to preserve Palau's unique cultural identity and conserve its natural resources for future generations.