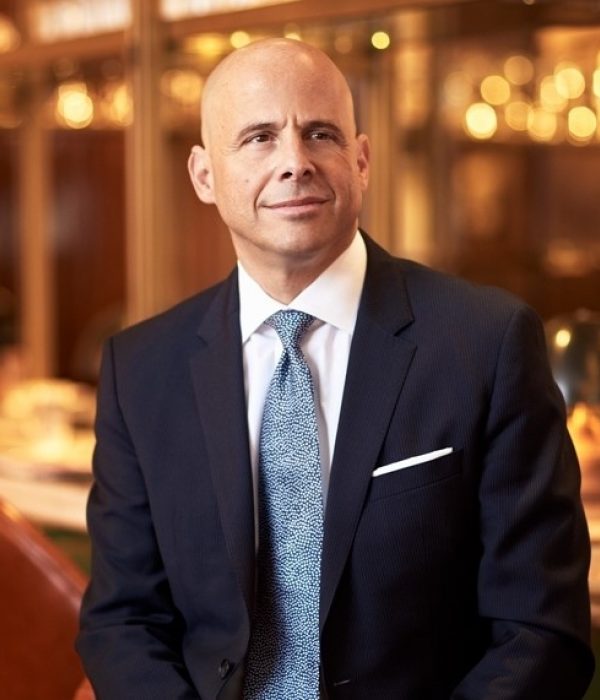 Christian Clerc
President, Global Operations
Four Seasons
Christian H. Clerc oversees global operations, ensuring that each property in the company's growing portfolio represents the highest standards of quality and service, working closely with teams in its corporate offices as well the company's growing portfolio of hotel and residences worldwide. His role encompasses hotel operations, people and culture operations, sales and hotel marketing, design and construction, food and beverage, and ultimately, the guest experience.
"Luxury today is about time well spent and the creation of memorable experiences," says Christian. "At Four Seasons, we pride ourselves on creating meaningful personal connections between our guests and our people," noting the company's successful growth rests on its singular corporate culture. "One of the most important things we do is encourage our employees to get to know one another and care for each other." By fostering a company culture built on empathy, trust and mutual respect, employees are empowered to be themselves and focus on creating extraordinary guest experiences.
This commitment to excellence also extends to Four Seasons award-winning restaurants and bars, a source of continued growth and innovation. "Across each and every property, our restaurants and bars serve as a gateway into the world of Four Seasons for local clientele, and a way for visitors to connect to a destination."
As Four Seasons continues to expand its portfolio, Christian also leads the design and construction teams, partnering with world-class talent to develop architectural and design innovations that reflect each locale and that strive to meet the evolving needs of today's luxury traveller.
Career Highlights
At Four Seasons: Joined in 2000 as Hotel Manager in one of the company's flagship locations, Four Seasons Hotel Washington, DC and held posts as General Manager in New York, Punta Mita, Mexico, and Chicago before returning to Washington in 2008 as General Manager and Regional Vice President. In 2012, he took over leadership of the legendary Four Seasons Hotel George V, Paris with regional responsibility for hotels in Western Europe. He was promoted to Area President, Hotel Operations for Europe, Middle East and Africa in 2014 and to President, Worldwide Hotel Operations in 2016. He was appointed to his current role as President Global Operations in September 2019.
Previously: Hotels in Geneva, Washington, Rome and Paris
Education: École hôtelière de Lausanne, Switzerland
Member of the École hôtelière de Lausanne International Advisory Board
Personal Insights
Words to work by: "Every interaction with a guest is an opportunity."
Home is where your family is: Born in Montreux to a Swiss father and an Italian mother, married to an American and with children born in Rome and Washington and now based in Toronto and Washington, Christian and his family make a point of returning to their roots in Switzerland and Italy annually.
Where to find him when he's not at work: "In the kitchen! I'm fortunate to have travelled the world, tasted many different cuisines, and been inspired by many incredible chefs."
Secret to success: "There's no question that I owe my career to the support of my wife Meg and my daughters Eleanor and Georgia. We're taking this journey as a family."
For further insights into the life of a globetrotting executive's family, see Christian's 2012 column in the New York Times.