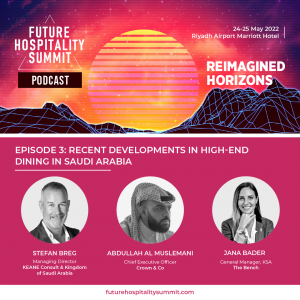 Episode 3: Recent Developments in High-End Dining in Saudi Arabia
Here's a quick teaser to what the discussion on high-end, fine-dining restaurants will look like at the Future Hospitality Summit, 2022.

We have Stefan Breg, MD Keane Consult & KSA in conversation with Abdullah Al Muslemani, CEO Crown & Co. and Jana Bader, General Manager, KSA, the bench for this podcast where they discuss the recent developments in high-end dining in Saudi Arabia, and what opportunities do the local players from the GCC region have in the global market.
VIDEO:
Chapters:
00:09-01:18 Panel Introduction
01:19-02:11 Some of the best high-end restaurants
02:12-04:15 Which city in the world should Riyadh aspire to in terms of high-end dining?
04:16-05:25 Locally-owned high-end restaurants
05:26-09:10 What has held back local high-end restaurants in the GCC region from going global?
AUDIO: